Back to Detroit Diesel Engine Information
Series V 71 Model Description Chart, Application, Rotation, & Design Variations
7
0 8
2
-
7
2
0 1
Series
V 71
# Of
Cylinders
Application
Designation
(see below)
Basic Engine
Arrangement
(see below)
Design
Variation
(see below)
Specific
Model #
Application Designations
708

2

- 7200 Marine
708

3

- 7200 Industrial F to F
708

4

- 7200 Power Base
708

5

- 7200 Generator
708

7

- 7000 Vehicle F to F
708

8

- 7000 Vehicle F to F
Design Variations
7082 - 7

0

00 V71 "N" Engine
7082 - 7

1

00 2 Valve Head Engine
7082 - 7

2

00 4 Valve Head Engine
7082 - 7

3

00 Turbocharged Engine
7082 - 7

4

00 Turbocharged Aftercooled
7082 - 7

5

00 Customer Spec. Engine
7087 - 7

6

00 Constant H.P. Economy (TAE) (California Certified)
7087 - 7

7

00 Constant Horsepower (TT)
7087 - 7

8

00 Constant Horsepower (TTA) (California Certified)
7087 - 7

9

00 Constant H.P. Economy (TTAE) (California Certified)
Basic Engine Arrangements
Rotation: L (left) & R (right) designates rotation as viewed from the front of the engine.
Type: A-B-C-D designates location of starter & oil cooler as viewed from the rear of the engine.
Cylinder Banks: Left & right cylinder banks are determined from the rear of the engine.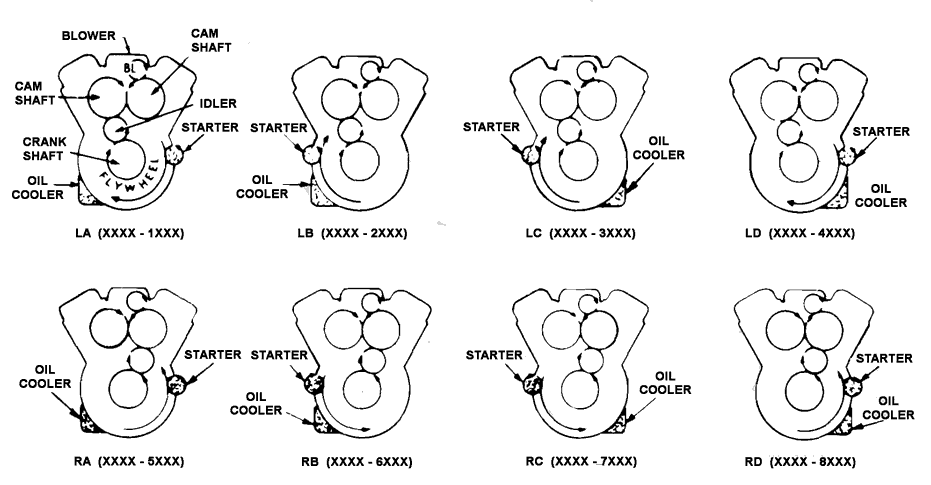 ALL VIEWS FROM REAR (FLYWHEEL) END OF ENGINE
Drive Shaft Rotations
7242 -

0

200 Left-Hand
7242 -

9

200 Right-Hand
Shaft rotation on multiple units is determined from the rear of the unit.
The engine serial # & model # are stamped on the cylinder block in the following locations (as viewed from the flywheel end). The left side, upper front corner of current 6V & 8V cylinder blocks & the right side, upper rear corner of current 12V & 16V blocks & former 6V & 8V blocks. An example of a Series 8V71 serial # is 08VAXXXXXX. The engine serial # is required when placing a parts order. Model # 7082-7201 is interpreted as follows: V Series 71 Engine (7), eight cylinder (08), marine (2), right-hand rotation with "C" accessory arrangement (7), four-valve head engine (2), & specific model variation # 01 (01).