Company Profile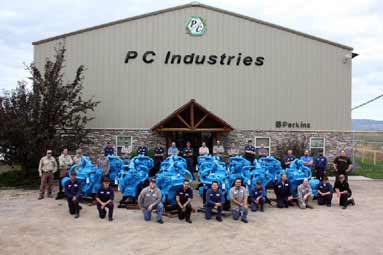 P C Industries has been in the diesel engine business for over 30 years. We sell and service a full line of high quality OEM (original equipment manufacturer) Replacement parts for Caterpillar, Cummins, Detroit Diesel, John Deere and other diesel engines. We sell and service a full line of Genuine parts for Cummins, Detroit Diesel and Perkins diesel engines. We are an authorized Master Service Dealer for Perkins and Dealers for Cummins and Detroit Diesel. We remanufacture Detroit Diesel, John Deere and Perkins diesel engines and subassemblies for Cummins and Detroit Diesel engines.

We are recognized as a leading provider of quality service and repair solutions for this industry and those who support it. We credit our success to the continuation of our heritage of customer satisfaction. The first priority of each employee is to exceed our customer's expectations. This creates customer satisfaction to ensure long-term success for our company, our employees, and the manufacturers we represent, through continuous improvement and our commitment to excellence, integrity, and teamwork.

We provide comprehensive support for a wide range of diesel engines and transmissions through our lines of new, used, and remanufactured service components, engines, and accessories, experienced technical consulting and repair, specialized machining and testing, manufacturing, and fabrication. All of which are based on a thorough understanding of our customers' requirements and their justified demand for excellence.

As a result, we have established and hold strong relationships with many respected clients throughout the U.S. and internationally. A customer base we continue to support and grow with our unyielding commitment to...
"…accept no excuses, only results"!